An extraordinary person such as Tan Sri Dato' Sri Ir. (Dr.) Lim Hock San, J.P. has led him to achieve successes both personally and professionally.
As a testament to Tan Sri's accomplishments, he has been awarded numerous recognitions and awards
throughout the years. As such, he is a good role model to emulate.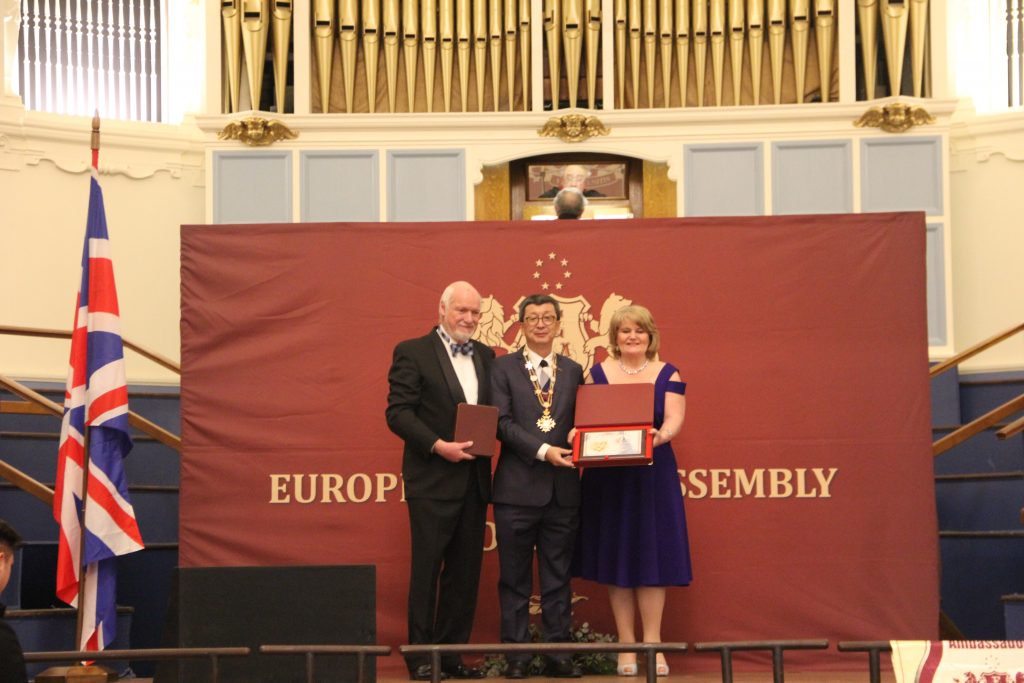 Awarded the prestigious Queen Victoria Commemorative Medal at a special ceremony in Oxford, United Kingdom
1982
• Graduated with First Class Honours in Civil Engineering from the University of Wales, UK • Second prize in the British Steel Corporation Competition for Design in Hollow Steel Section • Giving up a full PhD Scholarship to come home and help build the family business with his father, Dato' Seri Lim Bock Seng by seizing many opportunities emerging in Malaysia for fledgling construction companies during the 1980s
1997
• Conferment of the Darjah Jaksa Pendamai which carries the title of J.P.
2000
• Conferment of the Darjah Dato' Sultan Salahuddin Abdul Aziz Shah (D.S.S.A.) which carries the title of Dato' • Appointed as one of the committees of China Overseas Exchange Association 中国海外交流协会委员
2001
• Appointed as the Managing Director of LBS on 6 December • Successfully built LBS into a household brand name that today is well regarded as a true, home-grown Malaysian success story, from a company which began operations just two lorries transporting sand, stone and other construction materials
2007
• Appointed as Chairman of Board of Governors of SMJK Katholik
2008
• Appointed as President of Malaysia-Guangdong Chamber of Investment Promotion • Appointed as committee of Malaysian Chamber of Commerce in China - Guangdong
2011
• Recipient of the inaugural Platinum Entrepreneur Award by SMI Association of Malaysia
2012
• Recipient of the Prestigious Entrepreneur of the Year by Asia Pacific Entrepreneurship Awards ("APEA") • Appointed as Vice President of The Federation of Hokkien Associations Malaysia
2013
• Conferment of the Darjah Peringkat Pertama Sri Sultan Ahmad Shah Pahang (S.S.A.P.) which carries the title of Dato' Sri • Appointed as Vice President of Fujian Overseas Exchanges Association 5th Council • Appointed as Committee of China Federation Ninth Plenary Session
2014
• Recipient of the Malaysia Best Company for Leadership of Property Development of the Year by International Alternative Investment Review ("IAIR") Awards
2015
• Conferment of the Darjah Panglima Setia Mahkota (P.S.M.) which carries the title of Tan Sri
• Conferment of World Chinese Economic Summit ("WCES") Lifetime Achievement Award for continued efforts in enhancing bilateral relations between Malaysia and China (Guangdong Province)
• Bestowed with The BrandLaureate Hall of Fame – Lifetime Achievement Brand Icon Leadership Awards by Asia Pacific Brands Foundations • Appointed as President of The Federation of Malaysia Lim Associations • Appointed as Overseas Representative of the Fujian Chinese People's Political Consultative Conference (CPPCC) • Appointed as Committee of 9th Fujian Provincial Federation
2016
• Recipient of Global Best Company for Leadership of Property Development of the Year by IAIR Awards • Recipient of the Most Affluent Chinese Entrepreneur Awards • Appointed as Chairman of the Board of Governors of SJK (C) Tun Tan Siew Sin • Appointed as Honorary Adviser of The Federation of Malaysia Chinese Surname Association • Appointed as Honorary Life Chairman of Selangor Petaling Business & Industry Association • Appointed as Vice President of The World Lin's Association • Appointed as National Council Member of The Associated Chinese Chambers of Commerce and Industry of Malaysia (ACCCIM)
2017
• Being Malaysia's sole representative and one of few non-Chinese delegates to the landmark Lianghui annual meeting in Beijing, China • Recipient of Personality of The Year, Property Insight Prestigious Developer Awards • Recipient of Outstanding Leaders in Asia, Asia Corporate Excellence and Sustainability Awards • Recipient of ASEAN China Entrepreneur of The Year, Special WCES Award • Recipient of Person of The Year, Worldwide Excellence Award • Recipient of Queen Victoria Commemorative Medal • Appointed as President of Persekutuan Persatuan-Persatuan Ann Koai Malaysia • Appointed as President of Persatuan Anxi Selangor Dan W.P. Kuala Lumpur • Appointed as Honorary Life Chairman of the Board of Governors of SJK (C) Sungai Way • Appointed as Advisory Committee of Malaysia China Mergers & Acquisitions Association • Appointed as Overseas Representative of the Fifth Session of The 12th Chinese People's Political Consultative Conference (CPPCC) • Appointed as Committee of the 6th China Overseas Exchange Association • Appointed as Committee of 10th Fujian Provincial Federation
2018
• Recipient of Lifetime Achievement Award, 8th GlobaI Leadership Awards • Recipient of Leadership Excellence in Property Development, 8th GlobaI Leadership Awards • Participated in the 10th National Congress of Returned Overseas Chinese Delegates (第十次全国归侨侨眷代表大会) in the Great Hall, Beijing China • Appointed as President of The Federation of Hokkien Associations Malaysia • Appointed as Chairman of Selangor/ K.L. Lim Clansmen Association • Appointed as Honorary Life Adviser of The Federation of Chinese Associations Malaysia • Appointed as Honorary President of Malaysia-China Chamber of Commerce • Appointed as Honorary Life President of Gabungan Persatuan Cina Petaling Jaya, Selangor
• Appointed as Honorary President of Malaysia-China Silk Road Entrepreneurs Association • Appointed as Honorary President of The Federation of Malaysian Clans and Guilds Youth Association • Appointed as Committee of China Federation 10th Plenary Session • Appointed as Vice President of Fujian Overseas Exchanges Association 6th Council
2019
• Recipient of Lifetime Achievement Award, Des Prix Infinitus Asean Property Award • Recipient of Lifetime Achievement Award, Property Insight Prestigious Developers Awards • Recipient of Innovative Leader of the Year, iProperty Development Excellence Awards • Appointed as Honorary Life Adviser of Tan Kah Kee Educational Charity Foundation • Appointed as Committee of The 5th China Overseas Friendship Association